Practical and fun…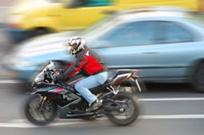 Motorbikes and mopeds are on the increase. Particularly in cities, they offer a solution to growing traffic congestion, parking problems and the high cost of private car ownership.
Users range from leisure bikers on high-powered machines to young people and professionals commuting by moped. From 2001 to 2010, the number of such vehicles on European roads rose by 48%, stabilising at around 34.5 m between 2010 and 2013.
…but vulnerable
Motorbikes and mopeds are less stable and visible and offer less protection than cars. They are involved in a disproportionately high percentage of fatal and serious accidents, most of which are in cities and caused by human error.
In 2013 for example, over 4,700 riders were killed in the EU. Motorcycle fatalities make up 15% of all road fatalities, while mopeds account for approximately 3%. Together, they thus account for about 18% of deaths on the road - though they represent only 11% of all motor vehicles.
Better motorbike & moped safety – what's the EU doing?
EU action to improve the safety of motorbikes and mopeds includes:
Useful links