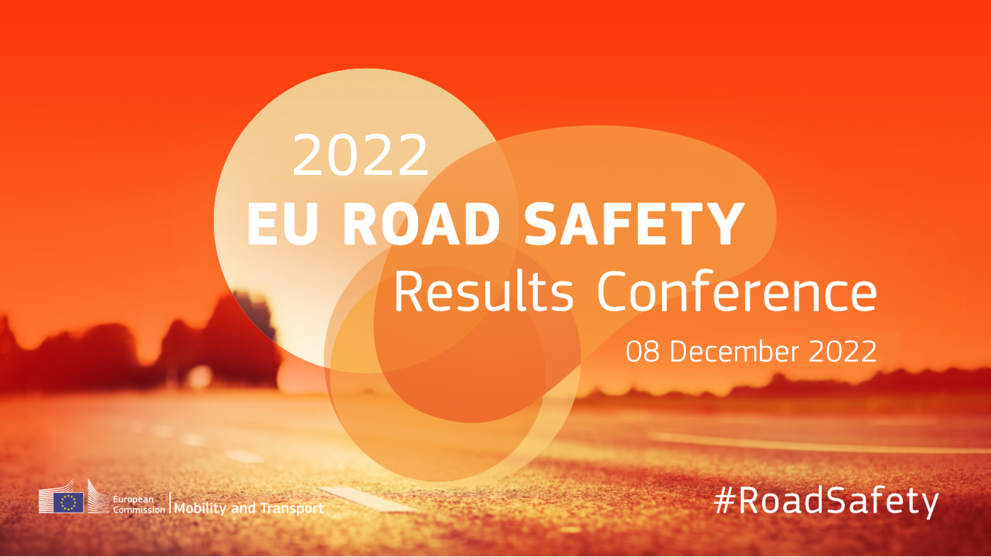 THE 2022 EDITION WILL BE HELD IN HYBRID FORM, ONLINE AND IN BRUSSELS
Moderated by Geraldine Herbert, mobility journalist.
To watch the conference online: https://ec.interactio.eu/ggkx-qj7m-8lhu
road safety

Thursday 8 December 2022, 09:30 - 16:30 (CET)

Brussels, Belgium
Live streaming available
Programme
8 Dec 2022, 09:30 - 10:10 (CET)

OPENING SESSION: WHERE DO WE STAND WITH ROAD SAFETY IN 2022?

Introduced by Henrik Hololei, Director General, DG MOVE, European Commission
Elena Kountoura, MEP, TRAN Committee, European Parliament
Martin Kupka, Minister of Transport, Czech Presidency of the Council of the European Union (invited)
Emil Boc, Chair of COTER Commission, Committee of the Regions

10:10 - 11:10 (CET)

PANEL DEBATE: KPIS, TARGETS AND STRATEGIES – ARE WE GETTING IT RIGHT?

Kristian Schmidt, Director Land, DG MOVE, European Commissionand European Road Safety Coordinator
Jean-François Gaillet, VIAS, coordinator of Baseline project
Tomáš Nerold,Head of National Road Safety Unit, Ministry of Transport, Czechia
Florence Guillaume,Interministerial Delegate on Road Safety, France
Livia Spera, General Secretary, European Transport Workers' Federation
Q&A

11:10 - 11:30 (CET)

COFFEE BREAK

11:30 - 12:15 (CET)

THEMATIC SESSION 1: PROFESSIONAL DRIVERS

How are companies ensuring the safety of their drivers as part of their corporate responsibility actions? What tools do we have for measuring the road safety performance of large corporations? What can we do better to ensure adherence to road safety rules by professional drivers?

Jean-Paul Peters, Health & Safety Operations Manager, Europe, UPS
Claes Tingvall, FIA Road Safety Index
Marijke Eskes, Central Netherlands Traffic Police and Chair of RoadPol Operational Working Group
Raluca Marian, Director, EU Advocacy, International Road Transport Union

Moderator: Claire Depré, Head of Unit, Road Safety, DG MOVE

12:15 - 13:00 (CET)

THEMATIC SESSION 2: VULNERABLE ROAD USERS

How do we allocate adequate space to vulnerable road users? What role can personal mobility devices like e-scooters play in our mobility mix? How can EU-funded research help improve outcomes for vulnerable road users such as cyclists?

Johan Diepens, Mobycon, Netherlands
Cristina Rodenas, DGT, Spain
Pascal van den Noort, Velo Mondial and Civitas HANDSHAKE

Moderator: Antonio Avenoso, ETSC

13:00 - 14:30 (CET)

LUNCH BREAK

14:30 - 15:15 (CET)

THEMATIC SESSION 3: YOUNG PEOPLE AND ROAD SAFETY

How can young people be more involved in making Europe's roads safer? What could be improved in driver training to improve the road safety of young/ novice drivers? How can we best incorporate road safety into the school curriculum?

Isabel Cunha, PhD candidate in spatial planning, University of Porto
Manuel Picardi, EFA – European Association of driving schools
Vasilliki Danelli-Mylona, Road Safety Institute "Panos Mylonas", Greece, lead coordinator of Erasmus/ project Knights for Road Safety/ Road Safety Academy

Moderator: Vesna Valant, Deputy Head of Unit, Road Safety, DG MOVE

15:15 - 16:00 (CET)

THEMATIC SESSION 4: ROAD SAFETY WITH A MORE AUTOMATED VEHICLE FLEET

Are we building distraction into our vehicles? How can data generated by new vehicles help improve road safety? And how can we encourage experienced drivers to engage in ongoing learning on advanced vehicle features?

Frank Mütze, ETSC
Fabienne Zwagemakers, Insurance Europe
Stefan Deix, EUCAR

Moderator: Joaquim Nunes De Almeida, Director Mobility and Energy Intensive Industries, DG GROW

16:00 - 16:30 (CET)

CONCLUDING SESSION: ADDRESSING THE ROAD SAFETY CHALLENGE IN THE GLOBAL SOUTH

Adina Vălean, European Commissioner for Transport and Jean Todt, UN Secretary General's Special Envoy on Road Safety

16:30 (CET)

CLOSING REMARKS

Kristian Schmidt, Director Land, DG MOVE, European Commission and European Road Safety Coordinator
Practical information
When

Thursday 8 December 2022, 09:30 - 16:30 (CET)

Where

Hybrid Event: Brussels and online

Languages

English
Description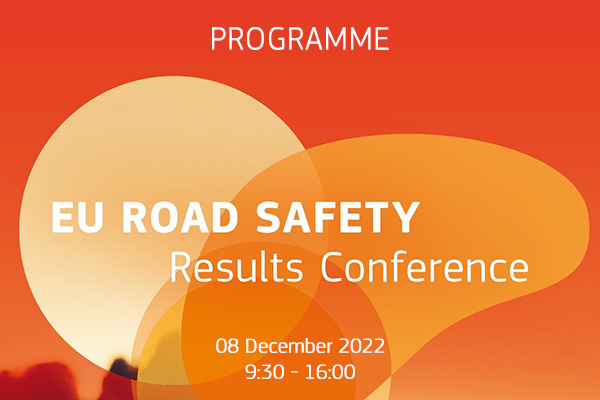 The EU Road Safety Results Conference is an opportunity to engage with EU Member State authorities and all stakeholders on the progress being made with implementing the Safe System approach.
In particular, it will allow participants to learn how work towards the Key Performance Indicators set out in the Next Steps Towards Vision Zero policy framework is moving forward.
It will also offer a forum for analysis and exchange between senior EU policy makers and the wider European road safety community.
EU Road Safety - Results conference 2022 - Programme
English
Download
EU Road Safety - Results conference 2022 - Presentations
English
Download