The European Commission will host a conference on road safety in the European Union on 2 December 2009 in Brussels, Charlemagne building. This will be an occasion to release the results of the consultation process on the next European Road Safety Action Programme (2011-2020)
road safety

Wednesday 2 December 2009, 08:30 - 19:00 (CET)

Brussels, Belgium
Practical information
When

Wednesday 2 December 2009, 08:30 - 19:00 (CET)

Where

Building Charlemagne

Rue de la Loi 170, Brussels, Belgium

Languages

English
Description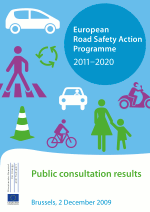 The conference will be opened by Vice-President Tajani and will also be addressed by Mr Brian Simpson, President of the TRAN Committee of the European Parliament and Mrs Åsa Torstensson, Transport Minister of Sweden.
The floor will be given to panellists from different backgrounds who will share their experience on the following subjects
Safety of vehicles and of infrastructure

The safety of motorcycles
Road safety and the vehicles of the future (electric,...)
Road safety and climate change (eco-driving,...)
Infrastructure adjusted to all road users (pedestrians, handicapped, elderly,...)
The supervision of the safety of roads and motorways

The European citizen, actor of road safety.

Road victims
Professional drivers
Public authorities
Traffic police
Doctors helping vulnerable road users and elderly people
Citizenship, responsibility and traffic education
Each panel discussion will be followed by a debate with the room.
This event will be used to launch the new Internet/Europa website of the European Commission.
The 2009 awards ceremony of the European Road Safety Charter will be the concluding event of the day.
Conference documents
Speeches
Powerpoint presentations